The mission of the California Breast Cancer Research Program is to eliminate breast cancer by leading innovation in research, communication, and collaboration in the California scientific and lay communities.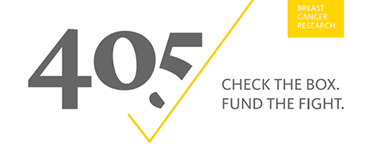 ---
Symposium Highlights Breast Cancer Research Advances
The California Breast Cancer Research Program will host a symposium to discuss the latest studies and key national issues affecting research on the disease on May 17 and 18 in Costa Mesa, Calif.
Scientists, advocates, health care providers, policymakers and community members will share recent advances in breast cancer prevention, detection, treatment and survivorship research and look ahead to new research directions.
The symposium, "From Research to Action: Two Decades of Change," commemorates 20 years of work by the California Breast Cancer Research Program (CBCRP), which is administered by the University of California Office of the President on behalf of the State of California. Since its establishment in 1993 by the state Legislature, the CBCRP has been hailed for its innovative research and for involving advocates and community members in charting research strategies.
"The symposium is an opportunity for people who are affected by breast cancer to meet with the experts who are working on ways to halt the disease," said Mhel Kavanaugh-Lynch, MD, MPH, director of the CBCRP. "Among the goals is to give everyone a good understanding of the interactions between research and policy, how each drives the other, and the implications for future breast cancer research, prevention and care."
Symposium highlights include:
Sessions on the environmental impacts on breast cancer risk, including discussion of a recent federal report, "Breast Cancer and the Environment: Prioritizing Prevention," which outlines a new path for future research. A panel to discuss the impact of the report on communities will include division directors of the National Institute of Environmental Health Sciences and the National Cancer Institute.
A program on the "Role of Research in Setting Breast Cancer Policy." Panelists will discuss how laws on genetic patents and privacy and health care reform will shape team research, patient recruitment and health care in the years ahead.
"Breast Cancer 101," a workshop on the fundamentals of breast cancer basic science and clinical outcomes for symposium attendees who do not have a background in scientific research. Read more
Join us in Costa Mesa!
Registration for our From Research to Action: Two Decades of Change symposium is now open. Go to our symposium page to see the full program (new sessions have been added) and register for the event. The on-line registration deadline has been extended until May 10 as long as space is available.
Symposium Stories

Whether you received the diagnosis, study the disease, provide healthcare or services to patients, or have a friend/loved one who was diagnosed with the disease, breast cancer impacts us all.

At the 2010 symposium, From Research to Action: Tools for Change, our Breast Cancer Research Council invited attendees to share their stories. Meet Jeanne Giles, and learn about her experience.

If you would like to share your story with others, join us on Facebook.

Stories from the 2010 Symposium

Learn more about how breast cancer impacts individual lives.