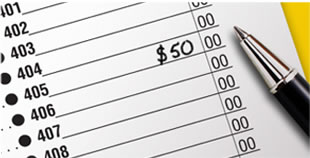 The California Breast Cancer Research Program (CBCRP) is fighting to end the disease through innovative science and community participation. And with a tax check-off contribution, you can join
the fight.
New approaches, new ideas.
The country's largest state-funded breast cancer research effort, CBCRP is run independently from the state by the University of California.
95% of all donations support new approaches to diagnose, treat and prevent breast cancer. Approaches other agencies might be reluctant to support. Such as:
• Identifying environmental factors that may cause breast cancer.
• Exploring new, effective treatments for advanced and metastatic breast cancer.
• Improving support networks to empower breast cancer patients.
Over $13 million in grants so far. And the fight's not over.
Check the box. Fund the fight. Mark 405 on your 540 Tax Form. It's an easy,
tax-deductible way to help conquer breast cancer.