2016 Conference Proceedings
The 2016 Conference, Joining Forces to Understand the Causes of Breast Cancer, was held on February 29 at the South San Francisco Conference Center
ABOUT THE EVENT
On February 29, 2016, CBCRP hosted a conference that explored research critical for understanding, preventing and curing breast cancer. The conference was designed to encourage participants to break out of "silos" that limit our ability to address the broadest spectrum of breast cancer concerns and engage with each other to generate new, transdisciplinary priorities and collaborations. Through thought-provoking presentations and world café-style small group conversations, over 150 advocates, researchers and clinicians explored ideas that they could take back to the bench, clinic and community organizations and some attendees laid the groundwork to build new partnerships.
The conference was documented using social media and graphic recording of the ideas that emerged through presentations and facilitated conversations. The graphic recordings were produced in real time by Leslie Salmon-Zhu of Conference Arts and Insights.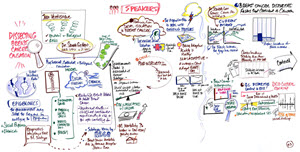 Program book with speaker bios
All graphical recording images (pdf)
#CBCRP - Joining Forces to Understand the Causes of Breast Cancer(Storify)

PROGRAM
Registration: 7:30 – 10:00am
Breakfast: 7:30 – 8:00am
Welcome: 8:00 – 8:15am
Marjorie Kagawa-Singer, UCLA/California Breast Cancer Research Program
Marion Kavanaugh-Lynch, California Breast Cancer Research Program
Sharima Rasanayagam, The Breast Cancer Fund/California Breast Cancer Research Program 
New Model of Breast Cancer Causation: 8:15 – 9:00am
Presentation (pdf) – Robert Hiatt, UCSF
http://www.cabreastcancer.org/causes/index.php# (Online model) 
Dissecting Breast Cancer Causation: 9:00 – 10:30am
Moderator: Joan Venticinque, Breast Science Advocacy Core, UCSF
Break: 10:30 – 10:45am
Facilitated Conversations: 10:45am – Noon
Facilitated conversations to access the collective experience and explore our goals, questions and ideas about the future of breast cancer research.   
Hosted Lunch: Noon – 1:00pm
Lunch and informal networking.
Resources for Understanding Breast Cancer Causation, Part 1: 1:00 – 1:50pm
Moderator: Naz Sykes, National Breast Cancer Coalition
ATHENA: A Model for Assessing Breast Cancer Risk – Laura Esserman, UCSF
Studying Real-World Breast Cancer Outcomes  -  Allison Kurian, Stanford University 
Break: 1:50 – 2:00pm
Resources for Understanding Breast Cancer Causation, Part 2: 2:00 – 3:00pm
Panel discussion: Conducting transdisciplinary research
Moderator:  Janice Barlow, Zero Breast Cancer (retired) Presentation (pdf)
HERMOSA: Health and Environment Research on Make of Salinas Adolescents

Kim Harley, UC Berkeley
Carolina Mundo, The CHAMACOS Youth Council
Kimberly Parra, Clinica de Salud del Valle de Salinas
Break: 3:00 – 3:15
Facilitated Conversations: 3:15pm – 4:45pm
Facilitated conversations to collectively explore what is possible working together and to identify ways we can collaborate to continue to draw upon the knowledge of diverse perspectives.
Report Back and Closing:  4:45pm – 5:15pm
Summary of conference outcomes and a discussion of resources for collaboration and next steps following the conference.
Reception with Poster Viewing:  5:30pm – 7:00pm
CBCRP-funded investigators describe their recent advances in breast cancer research.